— News
A 'Carelli' painting of a Middle Eastern Scene, but which Carelli?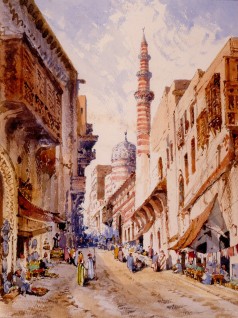 Works on paper added to the Russell-Cotes Art Gallery's collection in 2017 included a 'Carelli' watercolour of a Middle Eastern scene. Edward Stone suggested that this might be the work of Consalvo Carrelli (1818–1900) and provided a link to his signature. According to the collection's record the work was signed, but they had been unable to find the signature. Since the work is mounted, framed and glazed, they thought it might be hidden.
Victor Raphael Veronese proposed that the brush strokes were more like those of Augusto Corelli (Rome 1818–1918). Martin Hopkinson suggested Gabriel Carelli (1820–1900), as he painted Eastern subjects, while Consalvo apparently did not. Gabriel came to England in 1847–1848 and was received at Chatsworth by his patron, the Duke of Devonshire; he exhibited frequently in England between 1866 and 1892, married in Scotland in 1868, and died in Menton in December 1900. Osmund Bullock added that his full anglicised name was Gabriel Marino Nicola Carelli, that Consalvo (Gonsalvo) was his elder brother, their father Raffaele, and that they were from a well-known family of painters in Naples.
Gabriel's son, Conrad Hector Raphael Carelli, lived mainly in London after his marriage in 1915 and died there in June 1956. Conrad exhibited in London from the early 1890s and his watercolours were similar in style to his father's, but they signed their work differently ('Gab Carelli' and 'Conrad [HR] Carelli respectively). They both painted extensively in the Near/Middle East, including Cairo. Martin and Osmund compared various locations in the Muslim world.
Paul Nicholls agreed that the painter was most likely Gabriel Carelli, who was known chiefly for his watercolours of architectural subjects. He suggested that this picture could be 'A Moorish colony in Algiers', exhibited at the Royal Manchester Institution in 1882.
After further discussion, plus checking of signatures, Frances Fowle recommended that the discussion be drawn to a close and the watercolour attributed to Gabriel Carelli (1820–1900).
Mae Keary, Art UK Volunteer