— Discoveries
A copy of Probst's 'After Mass' identified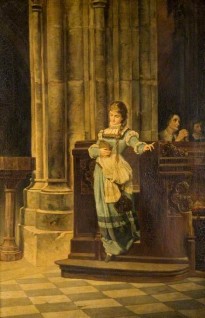 A work at Sunderland Museum & Winter Gardens was recognised to be similar to a work by Probst at The Cooper Gallery titled 'Leaving the Mass'. The title 'Marguerite Leaving the Cathedral' appears on the original nineteenth-century frame of the Sunderland work, was presented prior to 1906 by an anonymous donor.
Art Detectives agreed the work at Sunderland appears to be a copy or version of Leaving the Pew by Carl Probst in The Cooper Gallery, on which Probst's signature appears on the lower-left corner. No such signature was found on the Sunderland painting.
Andrea Kollman found that Probst exhibited a painting in 1877 in the Künstlerhaus in Vienna, described in press as being titled Nach der Messe ('After Mass').
Sunderland Museum & Winter Gardens' painting is now titled 'After Mass' and the work listed as being after Carl Probst (1854–1924).
Jade King, Art UK