— Discoveries
Attributed to Filipino artist Juan Luna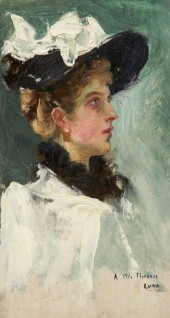 Matthew Lopez, who is conducting a study on Filipino artists Juan Luna and Félix Resurrección Hidalgo, started the discussion.
Matthew suggested that À Mlle Floranet was not by Charles de Luna, but by Juan Luna.
Matthew noted: 'There is a book written by renowned Juan Luna scholar, Santiago Albano Pilar on the definitive works of Juan Luna called Juan Luna: The Filipino as painter in 1980 which states a "A Mille Floranet; European collection" painted in 1895.'
Andrew Greg also pointed out there are several works by Juan Luna signed in capitals 'LUNA', which would fit with this work. Andrew looked at the collection's attribution of Charles de Luna and writes that Charles's subject matter was predominantly horses and military subjects. Andrew has also sent a link to a brilliant photo of Juan Luna in his Paris studio.
The collection agreed with Matthew and Andrew and the artist has now been amended to Juan Luna (1857–1899).
Alice Payne, PCF
Editor's note: this change will appear on the Your Paintings website by the end of August 2014.