— News
Birth date of naval artist William Smyth confirmed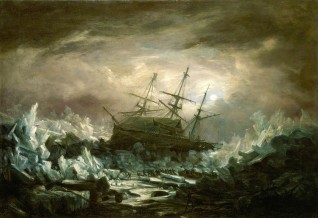 The naval artist, William Smyth, for some time was confused with the more widely known naval writer and surveyor, Admiral William Henry Smyth (d.1865), who was not a painter, at least in oils.
William Smyth died on 25th September 1877, while visiting Tunbridge Wells, where he is buried. It is known that Smyth was baptised in Hackney on 24th January 1800, yet we had no confirmation of his exact date of birth. Pieter van der Merwe proposed a discussion to try to establish this, suggesting that the information might be on a memorial in the borough cemetery in Tunbridge Wells.
Osmund Bullock responded by finding William Smyth's date of birth, 13th November 1799, in the London Metropolitan Archives' online parish records. As well as this discovery, he found images of two register books, both giving Smyth's date of birth.
Kieran Owens provided further evidence, in the form of a notice in the 'Bath Chronicle and Weekly Gazette' of Thursday 19th September 1793, that William's parents, John Greatrix Smyth and Sarah Grant, were married in that year. For biographical accuracy, he attached the church registration entries for John Greatrix Smyth's two marriages. The first, to Sarah Grant, of Walcot St Swithin, Bath, was on 18th September 1793; the second (as her third husband) was to Catherine Myers (née Winsloe, born in 1764), of Cheltenham, Gloucestershire, which took place at St Leonard's, Shoreditch, in the London borough of Hackney (John's home parish), on 21st January 1805.
Despite no visit to Tunbridge Wells, the research found during this discussion confirms that the artist William Smith was born on 13th November 1799. This record has been updated on the Art UK website.
Francesca Buffoni, Art UK Volunteer