— News
David Waterson's portrait of an unknown sitter discovered to be sculptor and sundial-maker James Tosh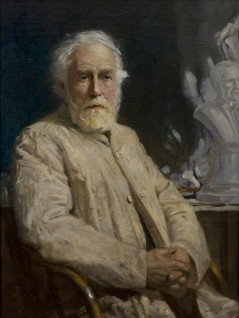 There was a portrait of an unknown man by the Scottish artist David Waterson (1870–1954) in the ANGUSalive collection. As the man was depicted wearing an overall and positioned in front of a bust in what looked like a studio, Art UK felt it was likely that he was a sculptor or artist himself.
A curator at the collection checked the reverse of the painting for markings, but the painting appeared to have been reframed, perhaps in the 1990s, so there were no further clues. The only substantial information about the painting came from a museum label, dated 2001, which didn't include the name of the sitter.
Kieran Owens quickly named the sitter as James Tosh, a resident of Brechin and a builder, sculptor and sundial maker. He posted cuttings from the Brechin Advertiser of 1955 and 1956 as evidence. One of the excerpts referred to 'a very fine portrait' of Tosh, which featured in an exhibition in Brechin, held in memorial of Waterson after his death in 1954. Tosh died at 57 Clerk Street, Brechin in 1919, aged 88.
At this stage, the collection felt it had received sufficient evidence of the painting to update their records. Happily, it noted it would also consider the painting to feature in future exhibitions. Katharine Eustace closed the discussion with the conclusion that the sitter of the painting has been found to be the builder and sculptor James Tosh.
Mae Keary, Art UK friend