— News
Five attributions made in one discussion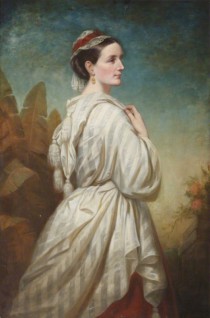 Harris Manchester College, University of Oxford wrote into Art Detective asking if five of their works listed as 'R. Herrick' could potentially be by William Salter Herrick.
They were not only asking the public to help with the attribution but also for methods of research, asking 'How else could we discover the true identity? Through sale catalogues?'
Richard Stephens started off the discussion asking important research questions such as 'what attribution was given at the time of acquisition?' He also asked if anything was written on the back of any of the works; this is one of the last places many think to look, although it is often where most painting information is stored.
Martin Hopkinson initially thought that the paintings did not appear to be by the same hand as the paintings by W. S. Herrick on Your Paintings. He suggested the miniaturist Thomas Heathfield Carrick as the artist for the 'Portrait of a Lady', pointing to the fact that 'Carrick' could have been misread as 'Herrick'. Andrew Greg, however, was quick to rule out the possibility of Carrick, citing other examples of Carrick's work. Richard Stephens brought the discussion back around to the idea of William Salter Herrick, noting that the 'treatment of Isabella's head' to be similar to the mother in the W. S. Herrick painting at the National Library of Wales.
Group Leader Barbara Bryant stepped in to agree with Richard that the portraits of Isabella and James Arlosh were consistent with the style and output of W. S. Herrick. Public user Elaine Clark then wrote it in to confirm that portraits of Mr and Mrs Arlosh have been painted by Herrick. Barbara then concluded the discussion to confirm the attribution of all five portraits to W. S. Herrick.
The paintings are:
Portrait of a Man with a Game Bag
Alice Payne, PCF
Editor's note: these changes will appear on the Your Paintings website by the end of June 2014.