— Discoveries
Garden depicted found to be that of the artist's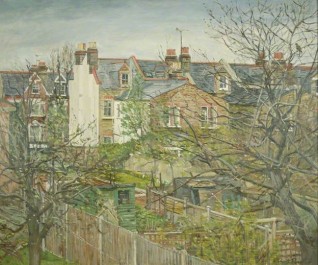 Art Detective not only discusses unknown sitters and unknown artists, but also unknown locations, local typography and more.
The question was posed: 'Do any Wandsworth residents recognise this garden?'
Despite the collection not commenting on the closure of this discussion we consider this a discovery story. It was one of the paintings featured in the Guardian's news article about Art Detective.
It took about a month for the garden to be identified, however Osmund Bullock surprised us all when he found the specific back garden in Wandsworth it depicted, along with photographs, which can be found in the discussion. Osmund discovered that it was in fact the back garden of the artist!
This discussion demonstrates how anything can be identified through the power of crowd sourcing information. The PCF are extremely grateful to all those contributing to Art Detective to help improve the UK's national collection of oil paintings.
Alice Payne, PCF