— News
Maritime location identified as Portosalvo, Naples, with the Church of Santa Maria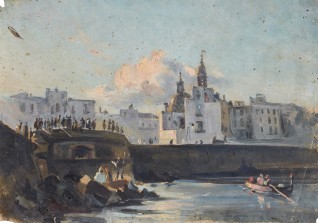 Pieter van der Merwe, Art Detective Group Leader for Maritime Subjects, opened a discussion to try to identify the location in Thomas Stuart Smith's painting, suggesting that the prow of the rowing boat made this likely to be somewhere in the Naples area.
Keith Orford commenced the discussion by proposing the old Roman town of Puteoli, with the Duomo of Pozzuoli. Pieter contested this, on the basis that the tower to the right of the dome had undergone changes and queried the position of the church on the port.
Vee Watson emailed Art Detective suggesting Valetta in Malta as a possible location, which led Kieran Owens to suggest that this was a view of the Church of Our Lady of Liesse in Valletta, as the rowing boat resembled a Maltese dgħajsa.
Pieter deemed this proposition unlikely since the artist was not known to have visited Malta or to have depicted any other Maltese subject, and the prow of the boat resembled those in Smith's other broadly Neapolitan region works. Osmund Bullock concurred with Pieter.
Stephen Adey suggested focusing on other key details, such as the majolica tile pattern on the church dome, the defensive bastion in the corner of the harbour and the direction the harbour wall must face based on the east-west axis of the church. These points helped Pieter to rule out the ports of Positano and Vietri sul Mare, and Syracuse which was put forward by Andrew Chamberlain.
Elin Jones identified the church as Santa Maria di Portosalvo in the old port of Naples, adding that it dated from 1534 and served local seafarers. Evidence was provided by images from Google Earth and most importantly by a watercolour painting by Giacinto Gigante entitled Portosalvo mit der Kirche Santa Maria.
Kieran Owens supported Elin's discovery, added links to other depictions of this port by Gigante, and suggested that Gigante and Stuart Smith may even have worked and travelled together, since both men were recorded in the region at the same time. Kieran provided a composite picture showing this painting alongside one by Gigante of the same subject.
Based on the conclusive supporting evidence provided by Elin and supported by Kieran's contributions, Pieter recommended amending the title of the painting to Portosalvo, Naples, with the church of Santa Maria. This was accepted by The Stirling Smith Art Gallery & Museum.
Natasha McCabe, Art UK Volunteer