— Discoveries
More found about E. W. Cocks, painter of balloons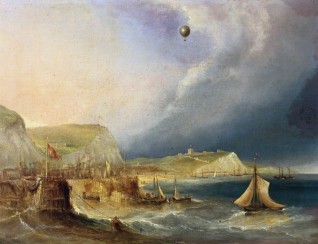 Martin Hopkinson sought further information about the artist E. W. Cocks. The Science Museum hold three of his balloon paintings, and the British Museum own a lithograph. There was a great deal of speculation as to whether he is an accomplished amateur, a balloonist himself, or a naval/military artist. Patronage of the paintings is also generally unknown.
The Science Museum's People Authority records that the work was catalogued in the 1990s, and the artist was active 1825–1840.
Cliff Thornton traced an article in the Journal of the Aeronautical Society (1957), which states that after Robert Hollond, MP, accompanied Charles Green in the November 1836 flight to Nassau, he commissioned E. W. Cocks to paint six scenes of the flight. These were sold in 1913. Apparently, Cocks also personally decorated the parachute canopy for Mr Cocking in his fatal attempt in July 1837.
Thornton added that the pilot Mortimer Singer bought Cock's paintings prior to 1917, and then loaned one to the Grosvenor Gallery for an aeronautical exhibition. Martin Hopkinson confirmed that at least eight of the paintings were purchased at the sale in 1913.
Osmund Bullock traced an artist called Edward William Cock's address as 8 Boswell Court through the baptismal entry for his son Edward George at St George the Martyr, Queen Square, Holborn. His wife was Ann Mace whom he married at Paddington, in 1825.
After much discussion, Pieter van de Merwe concluded that Edward William Cocks, born c.1803, was active c.1820–1843 as an ornamental and scenic painter in non-theatrical public entertainments, primarily as house artist at Vauxhall Gardens and a competent oil painter of landscape ballooning subjects. Andrew Greg agreed with Pieter, as did the collection.
Mae Keary, Art UK Friend