— Discoveries
One year later, a portrait is attributed to William Moore I (1790–1851)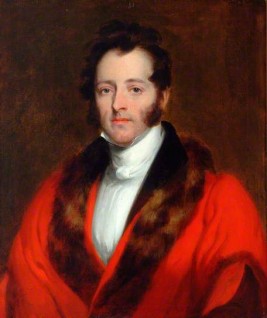 Merchant Adventurers' Hall asked the question: 'Who painted this portrait of Charles Hanson, Governor of the Company of Merchant Adventurers of the City of York?' The portrait was listed in their records without any artist attribution, however they had an execution date of c.1833. It was likely the portrait was painted whilst Hanson was Governor of the Company, between 1832 and 1834.
Paul Kettlewell found an 1849 article from the Yorkshire Gazette, which was interesting to the collection, but did not mention the Hanson portrait.
An entire year later, Andrea Kollman discovered that the 1895 Yorkshire Gazette 'reported about a portrait of "Sheriff Hanson in his robes, painted by Mr Wm. Moore"'. The Yorkshire Herald of 1895 helpfully also reported about an exhibition by an artist 'Moore'. This was William Moore, senior; a portraitist. The Herald article also provides the key information that, of those exhibited portraits, one depicted 'a former Sheriff of York, Mr Hanson, lent by the Governors of the Merchant Adventures' Company.'
The artist William Moore I (1790–1851) was listed as the portrait's creator. The collection were very pleased with Andrea's contribution, and said 'it gives us great pleasure to be able to amend our records to include the artist's name, perhaps for the first time in 100 years!'
Jade King, PCF
Editor's note: this change will appear on the Your Paintings website by January 2016.