— News
Painting discovered to depict 'Othello Relating His Adventures', based on a work by Douglas Cowper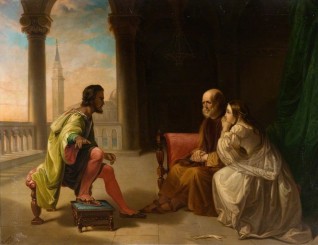 Martin Hopkinson opened up discussion on a painting by John Emery, then titled 'Meeting in Venice*', suggesting that it might depict a scene from Shakespeare's 'The Merchant of Venice'.
Almost as soon as it was posed, the question of the subject was solved by the Potteries Museums and Art Gallery, the collection that owns the work. A curator at the Potteries checked the collection's records and discovered an entry for the painting, which gave its title as 'Othello Discovering His Love for Desdemona', by John Emery, dated 1879. Moving on from his original question, Martin then asked whether that the painting might have been based on an earlier work.Veronica Isaac reiterated this point and pointed to the clothes and hairstyle of the women depicted, indicating an earlier nineteenth-century inspiration.
A great discovery by Scott Thomas Buckle confirmed the source of the image to be a painting by Douglas Cowper, 'Othello Relating His Adventures', best known from a later steel engraving by Alexander Dick. Buckle also suggested the Potteries' painting could be by Cowper too, though this was later dismissed by Osmund Bullock, who drew attention to the clear 'Emery' signature on the canvas.
The discussion developed, to investigate whether the painting was a copy of Cowper's original oil painting or Dick's print. Pieter van der Merwe deemed it unlikely to be a copy of the original, as it would seem doubtful that Emery would have gained access to Lansdowne House in London, where it had been situated at the time.
As such, the discussion concluded that the painting was made by John Emery in 1879, and entitled 'Othello Relating His Adventures'. It was judged to be a copy of Douglas Cowper's painting, made from either his oil painting or, more likely, a later print.
Leah Porter, Art UK Volunteer