— News
Painting of Warrington discovered to be by local mapmaker Daniel Donbavand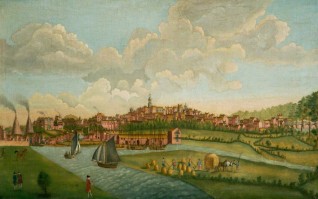 Doreen Cook raised the question of whether the painting 'Warrington from Atherton's Quay, Cheshire' was by Daniel Donbavand, who was a mapmaker in the area.
Cook pointed out that the first map of Warrington was made by a Daniel Donbavand, along with a Mr Wallworth, in 1772. She also mentioned that although the painting is unsigned, there are three undated engravings of the picture in Warrington Library, all recording a D. Donbavand as the artist.
Through records held in the National Archives and Cheshire Archives, Osmund Bullock was able to confirm that a Daniel Donbavand, living in Flintshire and working as a merchant in Warrington, produced a map of the town with his colleague James Wallworth.
Looking through the British Library Archives for views of Warrington, Andrew Greg was able to confirm the identity of the painter as Daniel Donbavand, by finding a print of seemingly the same painting, engraved by Thomas Kitchin. Both the map and Donbavand's painting were engraved by Thomas Kitchin and published (probably privately) in 1773.
The closeness of the dates between the two engravings and the fact that both were made by the same printmaker suggest that the D. Donbavand who made the map and the painting is the same person.
The discussion was concluded by Amanda Draper (Group Leader, North West England: Artists and Subjects), who stated that although the painting in Warrington Museum & Art Gallery is unsigned, there is evidence both in the British Library and the Warrington Library engravings that they are based on a painting by D. Donbavand. Therefore, Draper recommended that the painting should be attributed to Daniel Donbavand (1751–c.1797) and dated c.1772.
Hagar Sasvari, Art UK Volunteer