— News
'Perseus and Andromeda' attributed to Henry Howard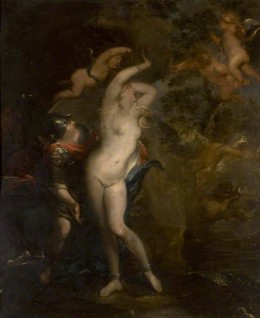 The painting 'Perseus and Andromeda', in the collection of Luton Culture, has been attributed to Henry Howard (1769–1847), having been previously listed as by an Unknown Artist, after Peter Paul Rubens.
Alastair Laing opened the discussion, proposing that it was compatible with works by Frans Wouters, a follower of Rubens, due to the small-scale copper support, physiognomies and figure types.
Tim Llewellyn agreed that the painting was not a copy after Rubens, and probably later. He noted that the copper support could be checked for the three-hand Antwerp guild mark that might have been embossed on it.
Andrew Greg agreed that the connection with Rubens was exaggerated. He and an Art Detective user at The Barber Institute of Fine Arts then compared this work with another Wouters 'Andromeda' on a copper support, which showed that the anatomy of this one was unlike that of Wouters' other nude figures, supporting Osmund Bullock's suggestion that this was likely to be late eighteenth to early nineteenth century, or perhaps an altered seventeenth century original. This was furthered by Tim Llewellyn who, after visiting the painting at the collection, was convinced that it was by a nineteenth-century British artist. This was supported by his discovery of the opinion by Dennis Farr (recorded in 1959, when he was Assistant Keeper at the Tate) that Henry Howard and Thomas Stothard (1755–1834) were possible artists. Tim supported the suggestion of Henry Howard owing to the resemblance between this work and another of Howard's paintings, and confirmed that the painting was on a copper support. The discussion was thus extended to specialists in nineteenth-century British Art.
Andrew Greg recommended that the painting be attributed to Henry Howard, based on the well-informed suggestion by Dennis Farr, supported by Tim Llewellyn. As a result, Luton Culture and Art UK have been able to update their information on this painting.
Natasha McCabe, Art UK Volunteer