— News
Portrait of Brenda, Countess of Wilton attributed to Edoardo Gioja (1862–1936)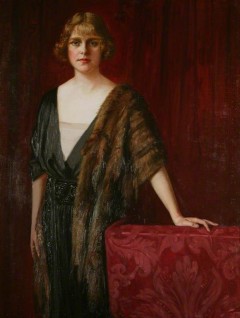 Manchester Art Gallery opened a discussion to try to identify who had painted the portrait of the Countess, who was born in 1896. The painting was gifted to the Gallery by the Earl of Wilton, Brenda's son, who believed the work had been produced by an Italian artist who had painted a similar portrait of his aunt.
R. Stephens commenced the discussion by asking whether the portrait of the Earl's aunt could be provided for comparison, with Paul Kettlewell using the 1901 census to suggest the sitter may have been one of Brenda's two sisters, Doris or Flora. As this provided no immediate leads, efforts to find an approximate date for the portrait of Brenda dominated the discussion. Osmund Bullock argued that the painting could most likely be dated between 1917 and 1920, both from the costume and hairstyle, and the fact that the Countess's life was tumultuous in the preceding years. Martin Hopkinson furthered this argument, confirming that the painting was most likely produced after the First World War. As a result, several artists of this period were suggested, the most convincing of which was Edoardo Gioja (1862–1936), proposed by Tim Williams, who added that the artist moved to London permanently in 1921, having been the art teacher of Princesses Margaret and Patricia of Connaught. Hopkinson agreed that Gioja was exactly the type of portrait painter that the Wiltons might have commissioned. Bullock also highlighted many similarities between Gioja's previous portraiture and the depiction of the Countess, however a major hurdle was evident in the lack of a signature on the painting. The gallery agreed to examine the back of the painting, while attention returned to finding an accurate date for the painting. Cassie Davies-Strodder and Oriole Cullen of the V&A concluded that the clothing most likely dated from around 1919 to 1920, aiding in narrowing the possible date range.
Unfortunately, the gallery was unable to find any convincing signature. Perhaps the most exciting breakthrough was the revelation that Sara Johnstone, granddaughter of Doris Bulteel, Brenda's sister, was the owner of the companion portrait depicting her grandmother. The portrait was produced by Edoardo Gioja in 1920, as evident from the signature and date in the lower left-hand corner of the painting. Other interesting information shared by Johnstone came from her family scrapbooks, within which the two princesses tutored by Gioja frequently appeared, revealing a link between the family and the artist.
While neither Johnstone nor her cousin, Brenda's granddaughter, could provide any conclusive proof that Gioja was indeed the artist of both portraits, the extensive evidence provided over the two-year discussion was more than enough for Art Detective Group Leader Katharine Eustace to conclude that the portrait is by Edoardo Gioja, and was painted circa 1919–1920, with both Manchester Art Gallery and Art UK agreeing to make the necessary changes to the work's attribution and date.
Emily Parsons, Art UK Volunteer