— News
Portrait of Samuel Holland MP attributed to Hugh Carter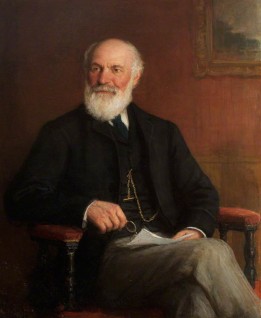 Gwynedd Archives Service held in its collection a portrait of Samuel Holland of Caerdeon (1803–1892), a Welsh Liberal Party politician and MP for Merioneth from 1870 to 1885. The portrait had been listed as by an unknown artist in the collection's records.
Paul Kettlewell began the discussion with convincing evidence to suggest that the portraitist was nineteenth-century Welsh artist Hugh Carter (1837–1903). An article in the North Wales Chronicle, 20th November 1886, titled 'Testimonial to Mr Samuel Holland', the article identified the artist, adding a full inscription taken from the frame.
Barbara Bryant, Art Detective Group Leader for Portraits: 19th C, sought confirmation about the inscription, difficult to see from the image on Art UK as, although she recognised Carter's brush strokes from his feathery touch in oils and his practice in watercolours and pastels, she expected to see a signature. Similar works by Carter are signed.
Andrew Greg confirmed that Carter signed his name at the bottom-left of the painting. Barbara then requested a further check of the signature as to whether it is signed 'H. Carter' or 'Hugh Carter', as the artist usually signed his full name. Osmund Bullock provided a close-up image of the artist's signature from the picture under question as well as two clearer ones from Art UK. The comparison proved conclusive and the record was updated accordingly.
Mae Keary, Art UK friend