— News
Portrait rescued from skip attributed to William D. Dring RA (1904–1990)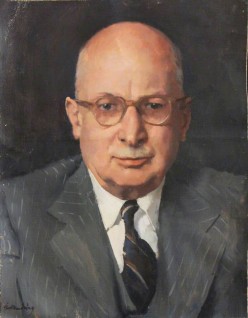 Colonel Oscar Vaughan Viney (1886–1976) was a Director of Hazell, Watson and Viney Ltd from 1920 to 1959, and Chairman from 1950 to 1954. This portrait of him, probably hung in the boardroom of the company, was found cut from its frame in a skip when the company's buildings were demolished. The artist has, until recently, remained anonymous.
Martin Hopkinson opened a discussion in search of him or her. The signature was initially thought to read 'E. W___ing' and the portrait considered to be based on a photograph in a book about the company and therefore, may have been painted by a local artist. Doubts were raised as to whether this portrait was indeed painted from the aforementioned photograph, given its confident and free handling of paint. Instead, it was suggested that it had been executed by a trained professional portraitist.
Through further examination of the signature on the portrait, it was proposed that the artist was William D. Dring RA (1904–1990), a prolific portrait painter who studied under Henry Tonks at the Slade between 1922 and 1925. It is likely that this portrait, executed between 1950 and 1958, was exhibited at the Royal Academy in 1958 titled Col. O. V. Viney, T. D., D. L.
During the Second World War, Dring was an official artist for the Ministry of Information, Admiralty, and Air Ministry, working on portrait commissions. Dring's post-war commissions included portraits of members of the Royal Family as well as other boardroom and official portraits.
Freya Sackville-West, Art UK Volunteer