— News
Portrait sitter confirmed as Waterloo veteran Henry Butterworth (1783–1860) and attributed to Edwin Greenwood (1808–1874)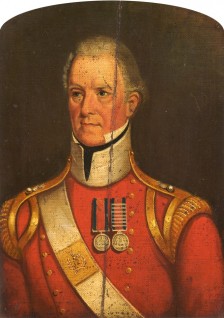 Cliff Thornton raised the question about the identity of the Lieutenant of the Grenadier Company of the 32nd Regiment pictured in the portrait. He provided information about the possible sitters, suggested by Hugo White of Cornwall's Regimental Museum. The three names given were Lieutenant John Boase, Lieutenant Theobald Butler and Lieutenant Thomas Ross-Lewin.
In addition, Thornton also attached the comments of the owning collection, Rochdale Arts & Heritage Service, in which Stephen Bull pointed out that the sitter served in the 32rd Regiment Grenadier Company and was awarded a medal at Waterloo. It was also determined that based on the medals, uniform style and the age of the sitter the painting was probably made soon after 1848. The collection also suggested that the sitter might be Lieutenant Henry Butterworth of Heybrook and that this could have been a framed memorial card.
Christopher Bryant began the discussion by confirming Rochdale Arts & Heritage Service's suggestion, after searching for Lieutenant Henry Butterworth on the Napoleonic Wars Forum. This provided another painting of the same sitter, at a younger age, with six clasps on his uniform. Bryant addressed the fact that the uniform appeared inaccurate to some viewers, noting that Butterworth's three wounds would probably have made it unlikely for him to wear his Waterloo uniform for a subsequent portrait.
Later in the discussion Osmund Bullock confirmed that the correct number of clasps for Butterworth was six, noting that subsequently awarded medals were usually added to paintings; which, he explained, could be the reason for the awkward placement of Butterworth's Military General Service Medal in one of the paintings discussed. He therefore concluded that the medals should not be the basis for establishing the date of the portrait.
Five possible sitters were suggested during the discussion. Nevertheless, Bullock confirmed the sitter's identity as Butterworth, as his 1820 retirement was the best match for the period of the uniform, and there are many similarities between this and the other paintings of Henry Butterworth, provided by others throughout the discussion.
Rochdale Arts & Heritage Service confirmed that the sitter of the painting should be amended to Lieutenant Henry Butterworth (1783–1860), and the painting attributed to the artist Edwin Greenwood (1808–1874).
Hagar Sasvari, Art UK Volunteer