— News
Revealed: an unknown painter with a mysterious monogram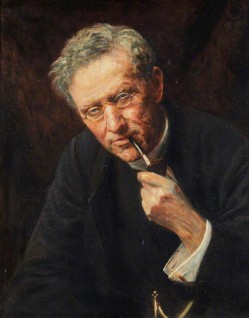 This portrait of Naval Chaplain Arthur Price Hill is in the collection of the National Museum of the Royal Navy, but until recently the artist has been unknown. There is a monogram 'THD' or 'HTD', dated 1913, at the top right of the portrait, but no other clues to the painter's identity.
The sitter worked as chaplain to the British Legation, Vienna in 1913, and died there in 1924. Using the information available, Andrea Kollmann quickly produced the name of an Austrian artist, Tom von Dreger (1868–1948), who exhibited a portrait of Arthur P. Hill in Vienna, 1913.
As proof, Andrea provided a link to the artist's name and the same monogram: http://bit.ly/2dYBE5Y. The work was exhibit No. 41 and it was speculated that a reference to the exhibition could be found on the back of the painting. A newspaper cutting about the exhibition was also provided.
Andrew Greg and Osmund Bullock congratulated Andrea on her findings, and the latter produced an enhanced image of Dreger's monogram detail as final proof.
The collection has been informed of this recommendation, and Art UK now lists the painting as by Tom von Dreger (1886–1948).
Mae Keary, Art UK Friend