— Discoveries
When faced with limited information...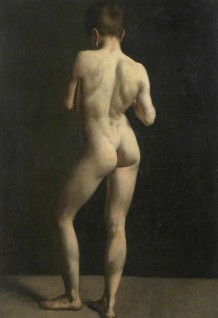 The unattributed 'Male Nude, from Behind', previously listed (incorrectly) as nineteenth-century French School, was up for consideration. Tullie House Museum and Art Gallery explained they had little information about the work.
Unlikely to be William Etty's work, the conversation turned to Thomas Eakins. While American, he studied at the Beaux Arts in Paris in the nineteenth century. Martin Hopkinson considered that the donor a member of the Eggleston family of Virginia, the work could possibly be by Eakins.
Andrew Greg, however, reminded Art Detectives 'there is always an immediate tendency to think of the famous names (like Etty and Eakins here) when confronted with an anonymous painting. Whereas there seemed to be no stylistic relationship to Eakins. Only the pose of the subject (quite common in models) was similar. Without further documentary evidence, we can conclude it is probably a competent workmanlike student work of the second half of the 19th century from any artist's or art school life room. This description was added to Art UK.
Jade King, Art UK