— News
William Lakin Turner work found to be of Glencoe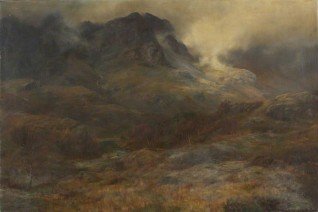 The Ruskin Museum wrote to Art Detective to ask if anyone were able to identify the topography depicted in 'A Scottish Glen' by William Lakin Turner.
Martin Hopkinson was the first to comment and put forward the suggestion of Glencoe. The Stirling Smith Art Gallery & Museum commented agreeing with Martin. John Morrison, Group Leader, also agreed and suggested the discussion was closed. John Ferry wrote that this is definitely The Three Sisters, Glencoe, giving an example from Glasgow Museums.
Glasgow Museums also commented on the discussion, writing that it is highly likely that this work depicts Glencoe as it was a popular subject for artists, particularly because of its historical associations, being the scene of the 1692 massacre.
The Ruskin Museum confirmed they were to change the title and a painting description was also added:
'William Lakin Turner specialised in large, wild, 'Romantic' oils of Scottish or Lakeland woodland and mountain scenes.
He exhibited with the Lake Artists Society from its inaugural show in Coniston Institute in 1905, when his 'Highland River after Rain' overwhelmed other works.
Whether this is the painting now at The Ruskin Museum is not recorded: until the advent of the PCF's Art Detective advisory site, our picture was vaguely titled 'A Scottish Glen', featuring a similarly turbulent sky, an inhospitably windswept glen, and a river in flood. With no label or inscription to provide a definite location, this seemed a generically 'Highland' painting.
We are thus extremely grateful to the Art Detectives who have responded, in consensus, to identify the scene as being in Glencoe, The Glen of Weeping, a popular destination for tourists and an emotive subject for artists from the early nineteenth century, being the scene of the terrible massacre of the MacDonalds on 13th February 1692. This explains the painting's eerie atmosphere: one of the first infamous attempts to subdue the Highlands and the Jacobite Highland clans took place here, and the ghosts still walk for those who have the 'sight'.
Because the summits are shrouded in mist and cloud, it is difficult to be explicit about the artist's actual viewpoint. It is suggested that he was probably looking towards The Three Sisters.'
Alice Payne, PCF
Editor's note: this change will appear on the Your Paintings website by the end of June 2014