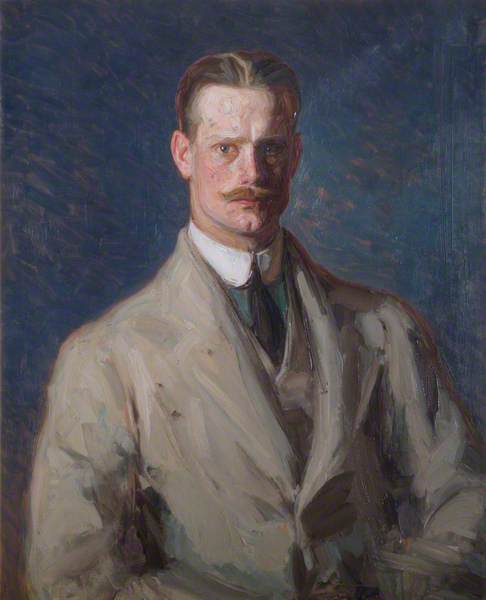 Topic: Artist
We know hardly anything about this oil painting. It is said to be of a rheumatologist, presumably a consultant at the Royal Free Hospital or possibly one of its associate hospitals.

From the clothes we have guessed that it is Edwardian or perhaps from just after WW1.

There is one other tiny fact, that on the back is a remover's label for Biddick & Co.

Can anyone contribute any more information?
Completed, Outcome

The title has been amended to 'Charles Brehmer Heald (1882–1974), Consultant Physician in Physical Medicine at the Royal Free Hospital', the execution date to 'c.1920–1925' and a description:

'The sitter had the distinction of serving as a medical officer in all three branches of the armed forces during the First World War. After the war he took a keen interest in electrotherapeutics and played a leading role in the development of physical medicine.

His papers include a typescript copy of his unpublished autobiography recounting his colourful wartime experiences, scrapbooks, printed matter, correspondence and personal papers.

There are five records at the National Maritime Museum of papers donated to them by Heald in 1957 relating to his First World War experience, including letters written to him by his wife and family.'

If you would like to contribute to the discussion about the artist of the work please click here: http://www.thepcf.org.uk/artdetective/discussions/discussions/do-you-know-who-painted-portrait-of-an-unknown-rheumatologist

These changes will appear on the Your Paintings website by the end of August 2014.

Thank you to all for participating in this discussion. To those viewing this discussion for the first time, please see below for all comments that led to this conclusion.