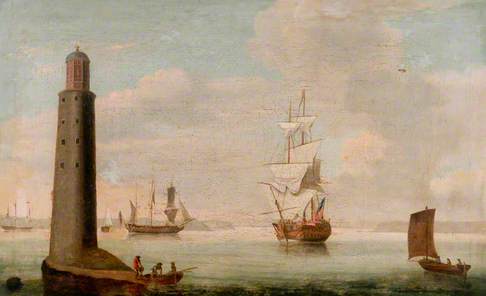 Topic: Artist
This oil painting depicts three ships near Rudyard's Lighthouse, which was the second lighthouse built on the Eddystone Rocks near Plymouth. It is unsigned and appears to have been cut from its original canvas and glued onto another.

We have recently narrowed the date of this painting down to between 1708 and 1755, as the Eddystone Lighthouse pictured is the second lighthouse which stood between those dates. The ships are third-rate, 64-gun, ships of the line, and appear to date no earlier than the 1740s. Does anyone know of any maritime painters that could have painted this? They were likely active between 1740 and 1755.
Completed, Outcome

This discussion is now closed. The 'Two Ships with a Lighthouse' have been identified as two Royal Navy warships off Rudyerd's Eddystone Lighthouse. The unknown artist was probably British, and the date mid-18th century.

Thank you to everyone who contributed to the discussion. To anyone viewing this discussion for the first time, please see below for all the comments that led to this conclusion.