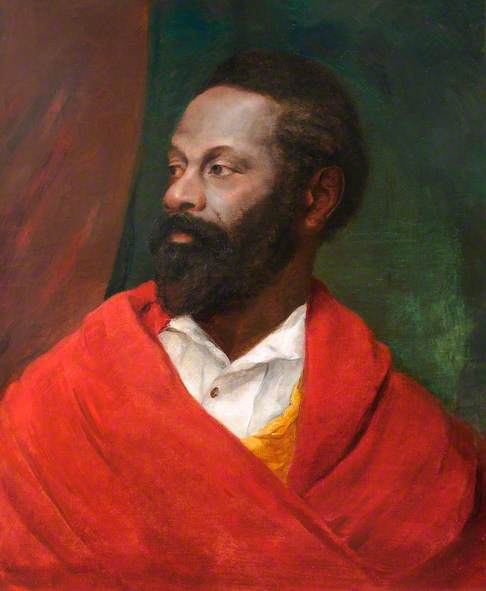 Topic: Subject or sitter
This is an unusual picture to be in our collection: little or nothing is known about it, not when it came into the Academy's collection (a volunteer is combing the RCA's minutes in the hope of discovering this), nor why the sitter is wearing such a 'theatrical' cloak, nor the date it was painted. All we can say is that it is oil on canvas, size 59 x 49 cm (sight), unsigned.

Repairs to three tears on the front of the canvas, some retouching to the red cloak, restretching (but not relining) and revarnishing were carried out in 2008. One suggestion is that the sitter might be posing as Othello – such as played by Ira Aldridge – and the face does slightly resemble a late photograph of that actor (in reverse). On the back of the canvas there is a fairly indecipherable maker's stamp – I shall try a better or different light and submit any results – so far all we can make out is second line 'Manufacturers'(?), third line, something like '11 Rathbone Place'(?), then 'London' on the bottom of the oval mark (mark is approx. 7.5 x 10 cm).
Completed, Outcome

This discussion is now closed. The newspaper reports make a very strong case for this painting to be identifiable as the 'Portrait of an African' by George Harrison (1840–1910), shown to the committee of the Canterbury Farmers Club in Feb 1862 and so probably datable to c.1861.

Thank you to everyone who participated in this discussion. To those viewing it for the first time, please see below for all the comments that led to this conclusion.