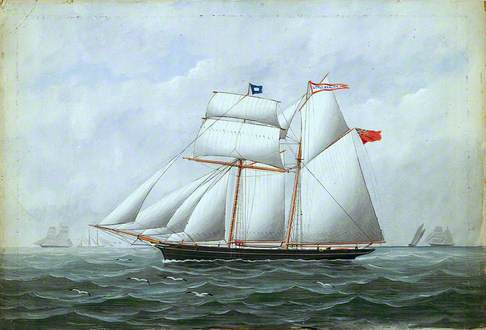 Topic: Artist
Archibald's 'Sea Painters' (1980) wrongly said that the National Maritime Museum has two works by him, the earlier dated 1870. It in fact has three (oils), all presented by Commander Henry Oliver in 1969: the earliest is the 'Little Beauty' (dated 1875), then 'Ocean Swell' (1878) and 'Martha Edmonds' (1880); Jersey has one dated 1879.

An enquirer for information on him has now produced a watercolour signed and dated 1903 of the fast Plymouth cutter 'Vanduara' (PH119, built 1880) shown when later rigged as a ketch, which has extended Pearn's working span: see attachment. The unidentified lighthouse is perhaps at the end of Plymouth Breakwater, but, even if not, the fact 'Vanduara' was a local vessel suggests Pearn might also have been Plymouth-based. Can anything else be added, including other examples outside the range 1875–1903?
Completed, Outcome

This discussion is now closed. A request for further information on 'W. Pearn (active c.1875–1903)' has identified him as William Pearn (1855–1926), a former house painter (journeyman). A biography of the artist has been produced for Art UK. The acquisition details have been updated for this and the other ship portraits by Pearn in the same collection.

Thank you to everyone who contributed to the discussion. To anyone viewing this discussion for the first time, please see below for all the comments that led to this conclusion.