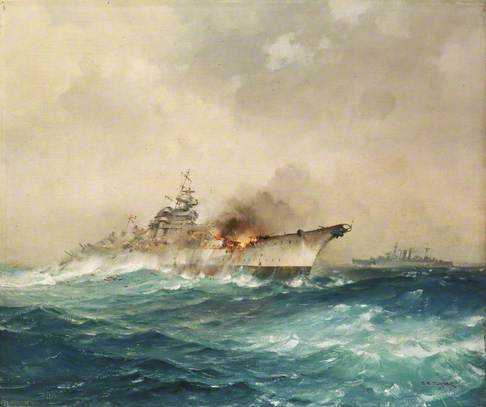 Topic: Artist
The information is basically that Turner was born in Lancashire (just, see below), did a lot of illustrative work for the 'Illustrated London News' and, I think, 'The Sphere' during WWII and lived the later part of his life at Looe in Cornwall. The matter is partly raised to resolve what his variably given second name was, as I noted as follows in the National Maritime Museum database in March 2014 concerning this 'Bismarck' canvas (NMM BHC0679):

'Note that this is an oil version of an earlier [and clearly water-based] illustration of the same composition by Turner, used as a double-page spread in the 'Illustrated London News' of 7 June 1941. Sir Bruce Ingram of the ILN appears to have specially commissioned the repetition for the Museum. Turner's second name is variably recorded as 'Eddowes' and 'Edward': the latter is more likely since it appears in relation to probate on his will (estate of £5312) granted to his widow Rita May Turner and his solicitor on 7 July 1965 following his death, aged 81, on 14 April at Liskeard (presumably in hospital since his home address is given as Treliss, North Road, West Looe, Cornwall). It was also a Charles Edward Turner who was baptised at Manchester Cathedral on 27 October 1883, having been born on 14 September (the usual date cited for the painter) at Beswick, son of Charles Edward (occupation 'fitter') and Grace Turner. Beswick lies east of Manchester towards Bradford, so reports that Turner was born in 'Lancaster' are wrong save that Beswick is just within historic Lancashire.'

The early edition(s) of Archibald comment that he was a 'reticent' man hard to find much about, but perhaps there is something now more discoverable.
Completed, Outcome

This discussion is now closed. The request for further information about the artist resulted in a biography of Charles Edward Turner being produced for Art UK.

Biographies derived from Art Detective discussions are available on request to artdetective@artuk.org

Thank you to everyone who contributed to the discussion. To anyone viewing it for the first time, please see below for all the comments that led to this conclusion.