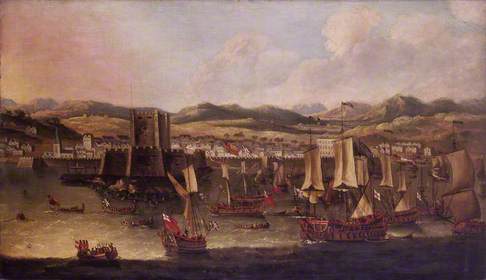 Topic: Artist
Conservation work on this painting has revealed a signature/inscription on a piece of timber lower centre which appears to be 'C Pocock VV'. The 'Pocock' is pretty clear, the initial a little less so and might be G, and the VV – or possibly W but probably not – remains to be explained,though I wonder if it might be 'veni, vidit' ('he came, he saw', as per Julius Caesar's 'veni, vidi, vici).

I have found no obvious trace of a late seventeenth-century artist called Pocock but should it strike a bell elsewhere it would be useful to know. The picture is in the general manner of Isaac Sailmaker: i.e. sub-van de Velde imported Dutch influence, so possibly someone schooled with Sailmaker or someone similar like the Knyffs.
Completed, Outcome

This discussion is now closed. The inscription and description fields on Art UK have been updated, but the artist remains obscure. The unclear inscription has been recorded as 'C. Pocock IVV (?)'.

Thank you to everyone who contributed to the discussion. To anyone viewing this discussion for the first time, please see below for all the comments that led to this conclusion.