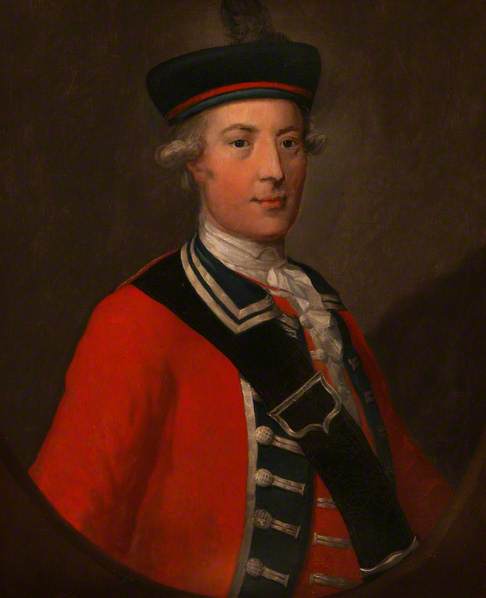 Topic: Execution date
The subject wears a coat with blue facings, depicting a Royal regiment. The 42nd Highland Regiment were not granted this distinction until 1758, after the date assigned to this painting. Moreover, the coat has a turned-down collar, or 'cape' in the terminology of the day, which is usually dated to c.1768, the year a Royal Warrant authorised this style of uniform, although the cape decoration here is unusual and does not conform to regulation, which might date the portrait to before 1768 as fashion did sometime precede official authority.

Curiously, though, the officer wears a red waistcoat with laced buttonholes which ordinarily would denote a member of the Light Infantry company attached to each infantry regiment after 1771, although he lacks the laced shoulder decoration, known as 'wings,' that was also a Light Infantry distinction.

The bonnet shows narrow red decoration on the band which was in evidence in the 1750s and 1760s. By the early 1770s, the 42nd were recorded wearing cocked bonnets with bands of checked 'dicing.'

Most importantly, however, the 'lace' button-hole decoration on the lapels would have been in gold for an officer of the 42nd, rather than silver, as shown here. Whatever regiment the sitter was belonged to, it does not appear to have been the 42nd – but since there was no other Highland regiment that bore the title 'Royal' until the 19th C, it would be difficult state an alternative. Back to square one.

The collection note:

'All the information we have on the painting is included in the info above. We think the execution date above is (roughly) correct, based on family info and research by other historians.

As stated in the info, we are now fairly sure that he was NOT, in fact, in the 42nd. So dating the painting based on the Regiment's uniform is spurious – uniform references should be made to the 114th Regiment.

The association with the Regiment was an assumption made some decades ago but cannot be backed up by any documentation. Also his uniform is wrong for The Black Watch full stop.'
Completed, Outcome

The execution date of this work has been changed to c.1761–1763, and the title 'Murdoch Maclaine (1730–1804), 19th of Lochbuie'. The painting description has been amended to:

'This painting depicts Murdoch Maclaine of Lochbuie, who was Lieutenant in the 114th (Royal Highland Volunteers) Regiment of Foot. He gained that rank in 1758.'

This amend will appear on the new version of the Your Paintings website in January 2016. Thank you to all for participating in this discussion. To those viewing this discussion for the first time, please see below for all comments that led to this conclusion.