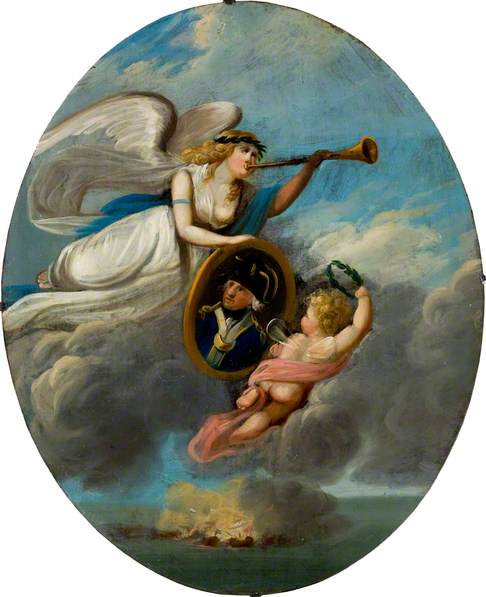 Topic: Execution date
The portrait at centre certainly has the look of Richard, Earl Howe, who died in 1799 as Admiral of the Fleet (so technically Admiral of the Red) to which position he had been appointed from Admiral of the White on 12 March 1796. I don't think he commanded at sea (certainly not in action) in that rank, in which he would have flown the Union at the main (rather than red) as flag of the Commander in Chief, as indeed he already had when still just Admiral of the White at the Glorious First of June 1794.

The (very small) sea battle below with a 'red' squadron British flagship against opponents with unidentifiable horizontal tricolour flags must therefore be no more than artistic fiction, and the uniform he is wearing much the same. The coat lapels are the wrong shape and epaulettes also only came into naval uniform in 1795.

If it's Howe, the allusion must be to his victory of 1794 – the only really major (and very extended) action in which he commanded – and one can overlook the various inaccuracies in the image as by a generally non-naval painter. The 1790 date given for the item must, however, be wrong. I think the date is more likely to be about 1799–1800.

The other puzzle is the military gorget, which is also not part of naval uniform. Howe was also made a General of Marines in 1796 – with which it might be connected – but that was a sinecure which other naval men held, more commonly as Colonels of Marines, and I have never seen any other naval portrait with a gorget, so am inclined to think it more likely an artist error. Bird of course did paint military subjects, most notably several versions of the 'Death of Wolfe' but this item is not typical for him (at least looking at the rest on Art UK) so is it also really by him (though I can't suggest alternatives)?

Are there any other ideas on subject, or other images to which it might relate? The following is a well-known 1780s portrait of Howe by Copley. Note the lack of epaulettes, which were only added to naval uniform from 1795 (and shown by Bird, despite his otherwise inaccurate rendering of the 1795–1812 uniform coat): https://bit.ly/3SBUJ0C

There are many others which show considerable differences in Howe's profile. Henry Singleton's full length is another on Art UK that is closer to Bird's: https://bit.ly/3C4nVqg

Attachments: portrait medallion; sea battle.
Completed, Outcome

This discussion is now closed. The title has been changed from 'Study for Lord Howe's Memorial' to 'Oval Painting Commemorating a Senior Royal Naval Officer, possibly Admiral Lord Howe', the date has been amended from 1790 to c.1800, and the acquisition method has been updated from 'untraced find, 1970' to 'bequeathed by Maria Christiana Cartwright, 1887'.

Thank you to everyone who contributed to the discussion. To anyone viewing this discussion for the first time, please see below for all the comments that led to this conclusion.