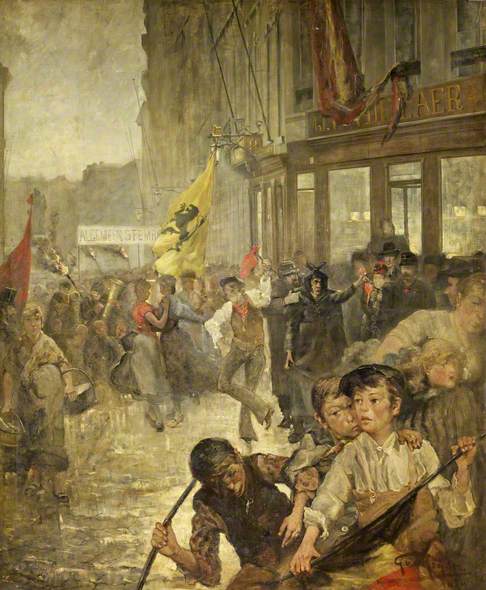 Topic: Artist
The banner and flag in the background indicate that this is a celebration of the introduction of universal suffrage in Belgium in 1948 - that both sexes are dancing shows that this is not celebrating the introduction in 1918 of suffrage for all men. The language on the banner is Flemish not French as is the surname of the fascia of the shop at the right. So the setting is in Flanders not Wallonia. The style of the figures in the foreground is Flemish Realist. It might be possible to identify the town or city, possibly Antwerp or Ghent. It is more likely that the artist came from one of these cities rather than Brussels. There is a signature bottom right which starts with a G and appears to ended 'inden', also Flemish not French. Was this by a Flemish artist made an Honorary Member of the RWA?
On the signature it looks like 'ANTW' and could well be an abbreviation of ANTWERPEN, strengthening the supposition was Flemish and not Walloon. Antwerp street directories should help to identify the business, the name of which is on the fascia.
Completed, Outcome

This discussion is now closed. The artist was identified as Gerard van der Heyden (1864–1939). The title was expanded to 'Socialist Demonstration for Universal Suffrage (Algemeen Stemrecht) on Leysstraat, Antwerp' and the picture dated to 1892, the year in which it was exhibited at the Royal Museum, Brussels.

Thank you to everyone who contributed to the discussion. To anyone viewing this discussion for the first time, please see below for all the comments that led to this conclusion.