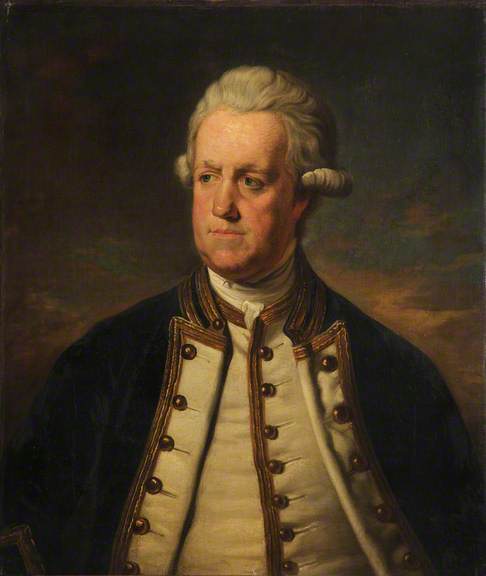 Topic: Subject or sitter
This portrait is one of five recorded versions/copies of which another which has been in New York since 1931 and currently heading for auction there was sold in London from the Marquess of Lansdowne's collection in 1930. That one has at latest an early 19th-century MS label on the back identifying the sitter as (later Admiral) Sir Peter Denis (1713-78) and was the basis for this one also being so-identified after it was bought at auction as an 'unknown captain' in 1935. In 1958 another version was found in private hands in Glasgow, also already identified as Denis though when Christies later sold it in 1967 they attributed it (wrongly) to William Hoare: the National Maritime Museum has a small file photo of that one showing it was in poor condition but equal quality to that here. Its current whereabouts are not in the NMM file.

At some point about 1965-68 the NMM also learnt of two more versions or copies, one in possession of Lord Crawford and the other with the Duke of Northumberland at Alnwick Castle but both these are identified as of Captain Sir Basil Keith (d. 1777) The presence of the latter at Alnwick was information supplied by the Scottish NPG after NMM sent them a spare copy photo of the Glasgow version sold by Christie's in 1967, and an apparently informal opinion also came back and was noted that 'Hutchinson' of the Scottish National Portrait Gallery thought the identification as Keith was likely to be right.

The present version appeared in the NMM 'Preliminary Catalogue' of oils of 1968 as Denis, but for reasons unclear (and apparently flimsy if the above was the sole evidence) had been reidentified as Keith by the time its 'Concise Catalogue' was published in 1988 - as it remains.

The size of the Crawford and Alnwick ('Keith') versions are not yet known: the other three, including this, are 30 x 25s.
All (presumably) also show the sitter, as here, in the 1767-74 captain's uniform: Denis would only have worn it to October 1770 when he was promoted to rear-admiral, Keith to 1774 when the uniform changed again.

Unfortunately I can find no other portraits of either man. The only circumstantial evidence in favour of Denis is that he was a more distinguished officer with the more varied career, including being one of Anson's 'Centurions' in the circumnavigation of 1739-44 when young the circumstantial point in favour of Keith (I have just been told while writing this) is that Dance is known to have painted his brother Sir Robert Murray Keith of which the Government Art Collection has a version (link below) though there are also reportedly others.

https://artcollection.culture.gov.uk/artwork/0-51/

I don't know if Dance's sitter book is known though there are 'personal accounts' in the Northampton Record office.

Unless/until one has all the images, it is not possible to be sure which is also the 'prime' version, so that is not resolvable here, but it would be useful to have firmer evidence one way or another on the Denis/Keith identity if anyone can offer it.

[Alistair Brown then made Pieter aware of the c.1734 birth date for Keith on the Three Decks website https://bit.ly/30vRkKL.]

[Pieter then added].

If it was c. 1734 that would have made him between c.33 and c.40 when wearing the 1767-74 captain's uniform shown and our sitter certainly looks older than that: Denis would have been 54 to 57 when in the same dress.

I see the Govt Art Collection in fact has two versions of Dance's portrait of Keith's elder brother, Robert, (1730-95) both also 30 x 25s, but possible 'family likeness' is not so striking as to be of help.
Completed, Outcome

This discussion is now closed. The new title is 'Portrait of a captain, probably Sir Peter Denis, c.1713-1778'. The revised entry on the Collection's own site takes all the considerations raised in this discussion into account.

Thank you to everyone who contributed to the discussion. To anyone viewing this discussion for the first time, please see below for all the comments that led to this conclusion.