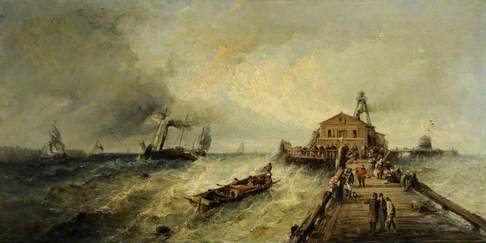 Topic: Subject or sitter
The impressive building halfway down the pier should make the location identifiable. Could this be Lowestoft South Pier, much of which was destroyed by fire in 1885? The Norfolk born William Cubitt (1785-1861), later Sir William Cubitt, was its original engineer in 1831.
Completed, Outcome

This discussion is now closed. The location depicted has been identified as Ostend Pier, Belgium. The title of the work has been amended to 'Paddle Steamer Departing in a Rough Sea, Ostend Pier, Belgium' and a note added to the artwork description field.

Thank you to everyone who contributed to the discussion. To anyone viewing this discussion for the first time, please see below for all the comments that led to this conclusion.