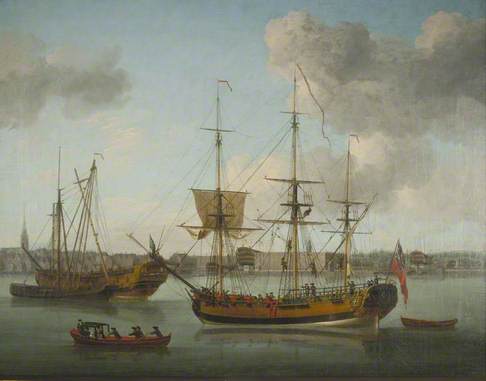 Topic: Artist
Pieter van der Merwe contacted us to suggest that this view of Deptford is actually by Cleveley the elder, https://bit.ly/3wl559N not the younger.
3 comments

Pieter van der Merwe, Greenwich Curator Emeritus, has recently added: 'I'm sure it's one of the John Cleveleys (rather than attributed to). The problem is the relative lack of oils by the Younger. It's more like his composition - from the one or two that aren't themselves questionable as 'after' - but the manner is otherwise very like his father - perhaps unsurprisingly. He's mainly a watercolourist despite the fact he did do oils.'

The low horizon suggests the influence of the Dutch Marine style of the 17th Century. If this painting is by either Cleverley I'd suggest the Younger.
The Younger's style is more atmospheric and less formal than that of his father or say Francis Holman, a painter from the same period and of known Thames subjects. The East Indiaman (?) to my eyes, is a tad short
I think we can discount Robert Cleverley his brother on stylistic grounds.