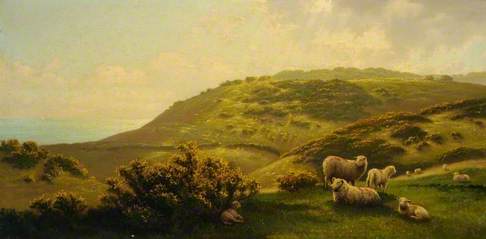 Topic: Subject or sitter
Is this a picture depicting the Sussex Downs above the cliffs, west of Belle Tout, the Seven Sisters, or east of Beechy Head?

In 1878, Potten exhibited 'The Downs near Eastbourne' as no. 939 at the Royal Academy.
Completed, Outcome

This discussion is now closed. The painting's title has been changed to 'Downland Landscape with a View to the Sea' with additional title information '(possibly 'The Downs near Eastbourne' exhibited in 1878)'.

Thank you to everyone for participating in this discussion. To those viewing this discussion for the first time, please see below for all the comments that led to this conclusion.