Completed Maritime Subjects 17 comments
Can you fill in missing biographical details for Arthur James Wetherall Burgess (1879–1957)?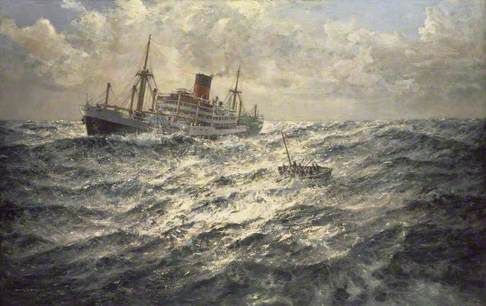 Topic: Artist
In checking some details on works by the Australian-born artist Arthur Burgess, I have noticed that we lack a full overview. I have not looked for specific press or magazine obituaries, but the attached working draft was fairly easily assembled (the Cornwall artists link at the bottom being notably useful). I don't have direct access to 'Ancestry' etc and standard 'British Artist' dictionaries at home, so if anyone who does would care to fill in some of the gaps indicated, or add further exhibition/publication data, that would be useful.

I think the National Maritime Museum bought this painting directly from him (TBC) and Teddy Archibald – as quoted – told me that the one thing he remembered from their conversation at the time was his regret that success had come too late for him to enjoy. Why that should have been so is not clear. He was in the same class as people like Norman Wilkinson, Charles Pears and Montague Dawson – though not as wide-ranging as the first two, who did much more advertising work for shipping and railway companies etc., and not all 'marine' – so perhaps not so much of a 'self-marketer' in the way he operated, but I only guess.
Completed, Outcome

This discussion is now closed. Pieter van der Merwe's new artist biography will now be reviewed with the Editorial team and then incorporated on to the Art UK site.
Thank you to everyone who contributed to the discussion. To anyone viewing this discussion for the first time, please see below for all the comments that led to this conclusion.