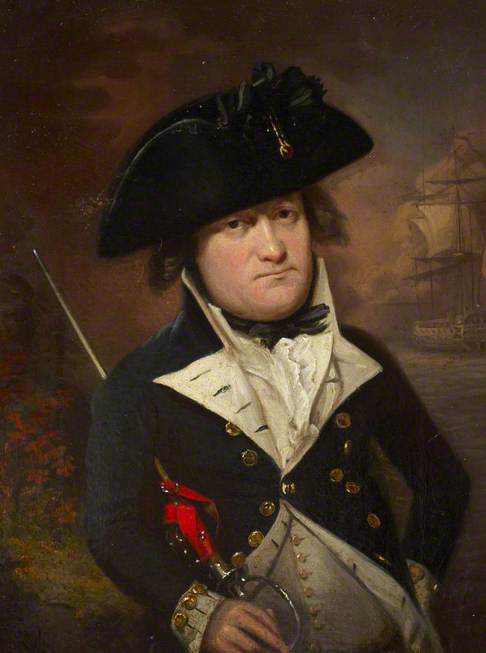 Topic: Subject or sitter
This half-length portrait shows an unidentified sitter in lieutenant's full dress uniform, 1787–1812, with a dress sword under his right arm, blade upwards and with a red sword belt wrapped around its sheath.

The intriguing aspect is the disproportion of the sitter's head to his body, and the unusual way the sword is included to show its full length in what is only a half-length portrait, also emphasising the apparent mismatch of body scale. Livesay was a competent painter and this is a good example of his work but I wonder if it is also one that shows a man who had some form of achondroplasia (bone growth disorder). If this is the case, it is surprising his identity is so far unknown. It would be unusual in a naval officer, given that being (literally) an 'able seaman' in terms of physical capacities was prerequisite to getting a commission, both practically and to command the respect of those under their command. However, while the effects of the condition can be more or less limiting, they are not axiomatically 'disabling'. Nonetheless – for a naval officer – it is the sort of thing likely to have been noted somewhere, probably in anecdotal or perhaps biographical sources rather than official record.

The individual concerned is also likely to have been (as he looks) a pretty strong character to have made whatever mark he did: lieutenant is the basic commissioned rank, but not every 'mid' even made it that far. I have not seen such a mention, but it would be interesting if anyone had.
Completed, Outcome

This discussion is now closed. The addition of Richard Livesay's life dates to Art UK is a productive outcome of this discussion about the identity of the sitter, which remains unknown.

Thank you to everyone who contributed to the discussion. To anyone viewing this discussion for the first time, please see below for all the comments that led to this conclusion.