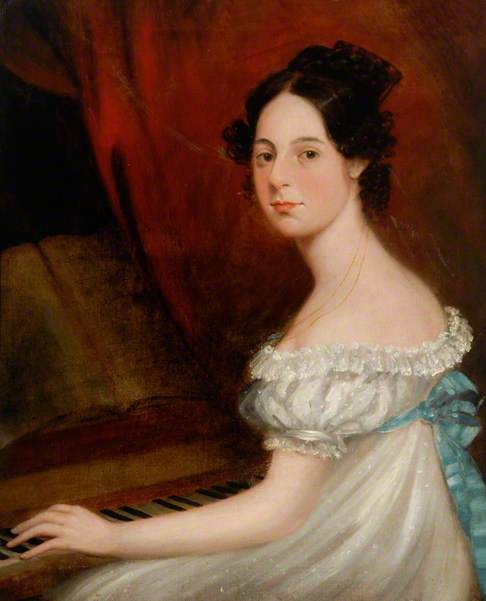 Topic: Artist
We have in our Collection this painting that depicts Sarah Burton. Our records state that the artist is Francis Cotes (1726-1770), and this is also reinforced by a plaque attached to the frame which gives the artist as F Cotes.

This information must be incorrect in regard to the date and the artist. Francis Cotes died in 1770, well before Sarah Burton would have reached adulthood. Further, the woman in the painting is not wearing clothing of the 1760s or the 1840s (the portrait currently has 1840 recorded as the date), but is in fact wearing costume that appears to be around 1810 in date.

It is one half of a pair of paintings which were donated together, the other supposedly being of her uncle, David Burton Fowler https://bit.ly/3cnbwSn. That painting is also incorrect in regard to the date of the artist and the clothing worn by the sitter.

The painting was in Canada before it was donated to us, so there is the chance that the sitter is not Sarah Burton at all. The donor possibly had links to the Oxford Group (later Moral Re-armament) and travelled frequently between the UK and Canada.

Any help/ideas on who painted this portrait, as well as if the sitter can be determined to be Sarah Burton, would be greatly appreciated.

Note: The Collection's research on the Burton-Fowler family is so far indicating the only Sarah who is David Burton Fowler's niece was born Sarah Hicks and was the daughter of Elizabeth Burton (his sister). So her name will not have been Sarah Burton when sitting for the painting, as the label implies.
Completed, Outcome

This discussion is now closed. An artist attribution has not been possible and that there is insufficient evidence to identify the sitter. The various ideas suggested, including those relating to dress and possible dating, will form an addition to the museum's file for future reference.

Thank you to everyone who contributed to the discussion. To anyone viewing this discussion for the first time, please see below for all the comments that led to this conclusion.