Sculpture 20 comments
Can you identify 'Mme la baronne L. de N.'?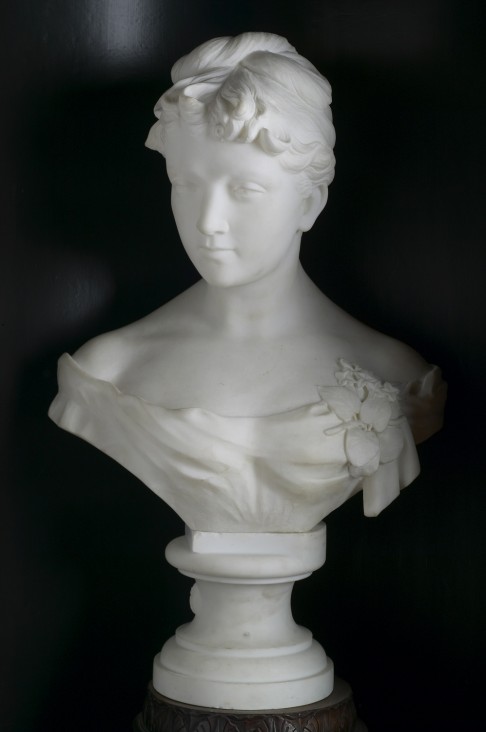 Topic: Subject or sitter
Gertrude Emily Devenish Walshe exhibited this bust at the Union des femmes peintres et sculpteurs, Paris in 1891, as no. 11, 'Lilas blanc (portrait de Mme la baronne L. de N.)'.

A previous discussion about the artist produced much interesting new information about her life and work. After that discussion closed, thanks to Linda Whiteley's interest and involvement, Laure de Margerie kindly sent a photograph of the catalogue entry which is reproduced in Pierre Sanchez, 'Dictionnaire de l'Union des femmes peintres et sculpteurs' (2010) (attached). Laure included Chantal Beauvalot's Introduction, which is very interesting about the rights of women artists, and Sanchez's 'Avertissements' and 'Remerciements', in which he explains how he created the dictionary, tracking down all the catalogues of the exhibitions that he could find (72 in all), with the contents of 10 missing years discerned through press reports and other art criticism.

Can the sitter be identified from memoirs or the local press of the period? Linda Whiteley has mentioned a society gossip in Nice in the 'Monde Elégant', where one of the contributors was for a number of years the Baron de Nervo, who apparently knew everyone, but unfortunately there appears to be no one with the initial 'L' in his family until his son Léon, who only married in 1897.

A low-relief crowned monogram on the socle (images attached, with thanks to the collection) was considered in the previous discussion. Group Leader Katharine Eustace had her doubts about the marriage of bust and socle, and Osmund Bullock concluded that they were most likely mismatched.