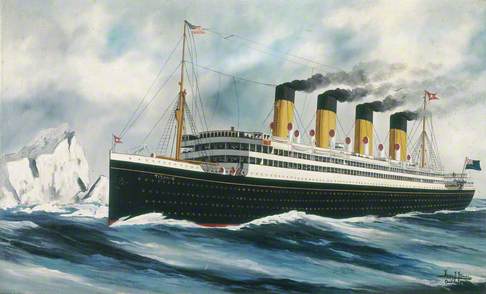 Topic: Artist
While no doubt prompted by the ship's loss in 1912, this is an unusual subject for Jansen given that he mainly painted North Sea ferries. It therefore seems a good one on which to post the brief note about him that emerged in the recent Art Detective discussion on Manx National Heritage's c.1860 painting of the steamer 'Douglas' by Henry(? ) Frost.

Other information, such as his second name and dates of other works which extend the range of his as-received working period also would be useful, since all those on Art UK lie well within it. A draft biography is attached.
Completed, Outcome

This discussion is now closed. Previously identified as 'A. J.' or 'Harry' Jansen from his signature, the artist's full name and life dates are now known to be 'Adrianus Johannes Jansen (1863–1943)'. A biography has been produced for Art UK.

Thank you to everyone who contributed to the discussion, in particular to Osmund Bullock and Kieran Owens for their meticulous research in British, Dutch and Belgian official records. To anyone viewing this discussion for the first time, please see below for all the comments that led to this conclusion.