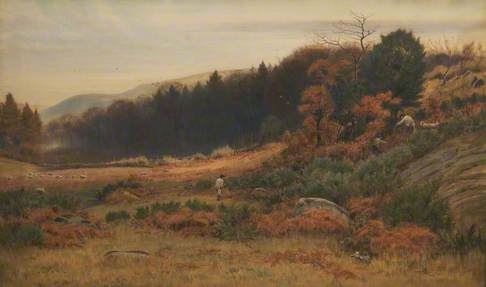 Topic: Artist
This watercolour painting is the only work by J. H. Cole on Art UK, as far as we know.

The collection comments:
'Our reference book [The Dictionary of British Artists 1880–1940] quotes a John H. Cole died circa 1895, Landscape painter of Lanbedr, Conway, Wales. 4 works exhibited at Walker Art Gallery, Liverpool; 1 at Royal Academy; 69 at Royal Cambrian Academy.'

A close-up image of the signature and images of the labels and markings on the back of the picture are attached.
Completed, Outcome

This discussion is now closed. The artist J. H. Cole has been identified as John Henry Cole (c.1828–1895), for whom a biography has been produced (attached at the end of this discussion). The place name in the title has been changed to Caerhun, as it was discovered that there is/was no 'Caerham' in the Conway Valley. The collection has confirmed that the medium is watercolour, not oil. The donor has been identified as Edwin Oratio Swallow, not 'E. V. Swallow'.

Thank you to everyone who contributed to this discussion. To anyone viewing it for the first time, please see below for all the comments that led to this conclusion.