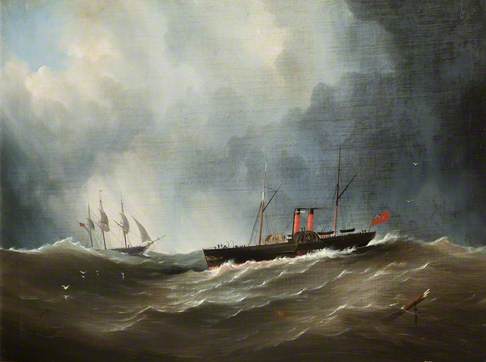 Topic: Artist
In case it is helpful, I own a painting by this artist which shows two trawlers in the Thames Estuary, one of which has CK on the side, which stands for Colchester. I presume the artist may have come from this area.

The collection comments: 'The painting is signed 'H. Frost' in the lower left-hand corner. We have attached an image of the signature. We have also included an image of the back of the painting, signed 'J. D. Clucas, 46 Athol St 1903'. The Clucas family donated the painting to the Manx Museum and National Trust. We do not know much about H. Frost currently, and we assume that he was a maritime painter active in the 1850s.'
Completed, Outcome

This discussion is now closed. 'H. Frost' has been identified as Henry (?) Frost, probably of Liverpool, active c.1850s–1870s. A biography has been produced and the painting on which this discussion was based has been dated c.1860. Two other works by this artist have been identified in the Manx National Heritage collection (Schooner 'Rebecca' and Schooner 'William' of Douglas).

A further outcome has been the correction from 'A. J. Jansen' to 'Harry J. Jansen' of 25 painting records distributed among six collections, after the error came to light in the course of this discussion.

Thank you to everyone who contributed to the discussion. To anyone viewing it for the first time, please see below for all the comments that led to this conclusion.