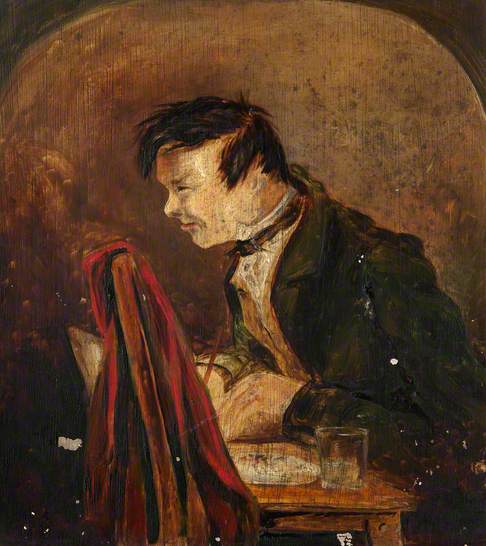 Topic: Artist
Certainly not the finest painting in the collection of the Royal Scottish Academy of Art & Architecture's Collections but a frustratingly intriguing one.

Despite its present title (given on the work being accessioned in 1993) the subject is actually an intent young man painting. The handle of his brush can be seen held in his right hand, and beside him on his desk to the left is a small palette (possibly a china saucer) with dabs of paint laid out on it, and a beaker of water.

The painting is oil on panel and no clues have so far emerged regarding its artist, sitter, or provenance. There is an old Aitken Dott label on the verso suggesting it may have been reframed or cleaned at some point.

It may be a generic sketch of a student at the RSA Life Class, or it may be someone quite specific. The poorly drawn ear and poorly trimmed hair around it may simply reveal the artist's technical shortcomings, or may suggest a physical condition perhaps brought on by disease or accident.

The style of dress suggests a production date of the 1820s or 1830s, maybe slightly too early for the RSA Life Class suggestion?

If anyone has any suggestions regarding the possible identity of either artist, or sitter, we'd be delighted to find out.