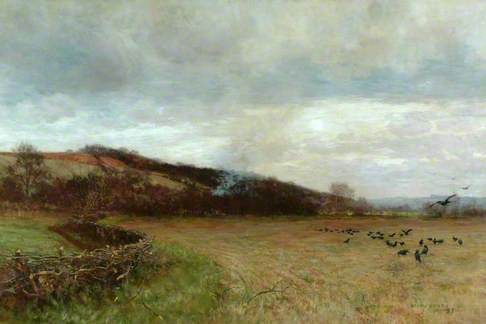 Topic: Artist
Maud Raphael Jones was born in Bradford. Between 1889 and 1907 he exhibited at the Royal Academy, the New Gallery, the Royal Institute of Painters in Watercolours, the Walker Art Gallery in Liverpool, Manchester City Art Gallery, Grosvenor Gallery and Glasgow Institute of the Fine Arts. He was primarily known for autumnal landscapes in both oil and watercolour. He was related to Frederick Cecil Jones (1891–1956), painter, etcher and teacher, of Bradford and also Leeds.

I think that much could be gained by asking about the artist here, especially in view of the recent success of the Charles Edward Turner thread.

I am the owner of the Fairview Art Collection in Subiaco, Perth, Western Australia.

Attachments: Maud Jones obituary and information sheet
Completed, Outcome

This discussion is now closed.

Thank you to everyone who contributed to finding a wealth of information on this little known artist, especially to Kieran Owens, Richard Green and Kenneth McConkey, and to Pieter van der Merwe for writing up the biography, which is attached.

To anyone viewing this discussion for the first time, please see below for all the comments that led to this conclusion.