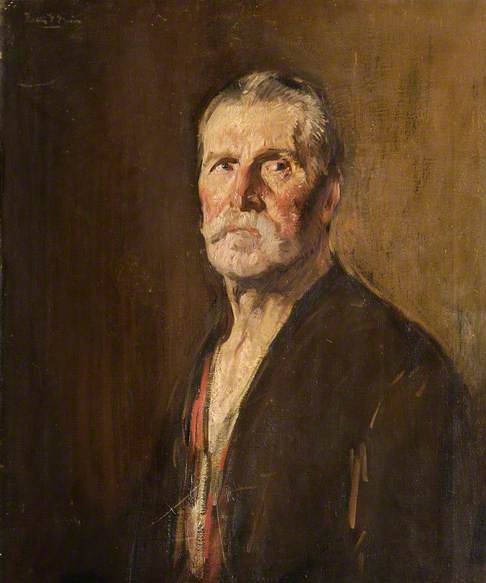 Topic: Subject or sitter
An earlier discussion identified this former soldier as James Roddick (1848–1928), who seems to have lived in Edinburgh and been a model for Scottish artists. I wonder if he also sat for John Watson Nicol in 'The Revenge', c.1908, which was in the Maas Gallery list of summer 2019? https://bit.ly/2rBBf4M

Nicol was certainly a Scot though I know nothing of his practice/whereabouts. If the Grieve portrait shows Roddick in old age, as we think, there could be up to 20 years between the images. The gallery is aware of this speculation, but perhaps someone could provide evidence either way and give us more information about the artist.
Completed, Outcome

This discussion is now closed. The conclusion is that, while possible, it is unlikely and certainly indemonstrable that Drummer James Roddick also sat for the artist John Watson Nicol.

The painting's original title has been made the primary title, with further information about the sitter added in brackets, viz. 'The Old Soldier (Drummer James Roddick, 1848–1928, 92nd Gordon Highlanders, in Old Age)'. The date has been changed to c.1927. It was also found that Art UK's image was distorted, so those proportions have been corrected.

Thank you to everyone who contributed to the discussion. To anyone viewing it for the first time, please see below for all the comments that led to this conclusion.