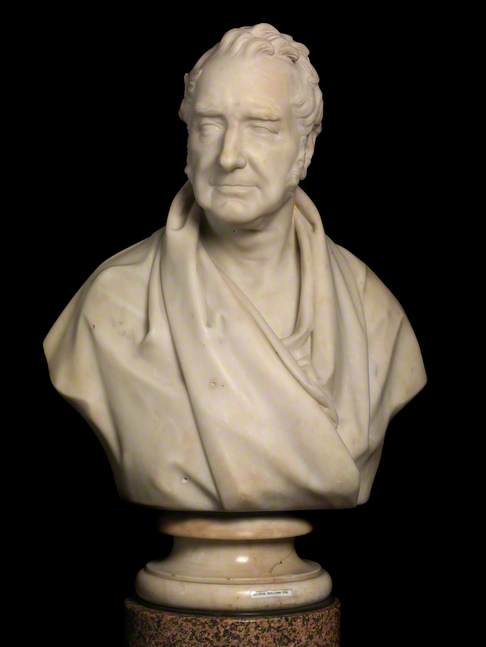 Topic: Artist
George Dollond (1774–1852) was a British optician who was elected a Fellow of The Royal Society in 1819.

There is another portrait bust in the same collection of instrument maker and optician John Dollond (1706–1761), who invented the Achromatic Refracting Telescope. He was elected a Fellow of The Royal Society in 1761. Inscribed on the back 'R.J. GARLDAND SC.T. CAMBERWELL.' [sic]

The 1881 census lists Richard J. Garland, aged 65, a builder and sculptor living in Camberwell.
1 comment

Richard James Garland was born to William Garland (a stone mason) and his wife Mary Ann, in late 1815 and was baptised at St. Mary's Newington, Surrey, on the 20th February 1816.

In 1841, at an address at Grosvenor Place Court, Richard Garland , aged 23, was listed as a "Sculptor". His father, William, then aged 50, was listed as a "Builder".

The Globe, of Friday 21st December 1849, carried the following marriage notice:

"At Walworth, Mr. Richard James Garland, of Camberwell, to Ellen, daughter of Mr. Kiddle, of Carter Street, Walworth."

The 1851 census shows Richard J. Garland, a "Sculptor", aged 35 (therefore born c. 1816) living in the parish of Camberwell.

In 1861, aged 45, he is living at 33, Brunswick Terrace, St. Mary Newington, and is now listed as a "Builder".

In 1871 he is living at 1, Addington Square, Camberwell, aged 55, with a wife and six children. He is listed as a "Marble Mason".

In 1881, at the same address as 1871, he is 65, and, as Andrew has written, was "Builder & Sculptor".

In 1891, he is found at 18, Derwent Grove, Camberwell, aged 75, and is listed as a "Monumental Artist (?)", as is his 35-year-old son, Alfred.

In 1901, from the same Derwent Grove address, he is 85, and is a "Retired Builder". Both of his sons, Richard (50) and Alfred (45), are listed as "Monumental Mason".

Richard James Garland died on the 22nd August 1903, aged 87. His burial record, at Norwood Cemetery, in Lambeth, states that his address was 18, Derwent Grove, East Dulwich, but that his body had been removed for burial from Camberwell Workhouse.