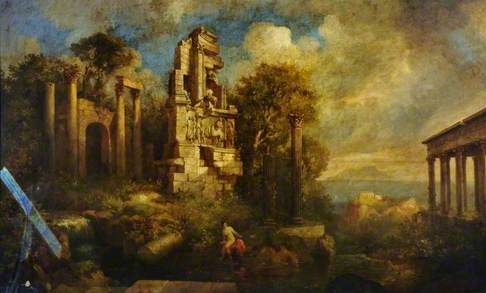 Topic: Execution date
As the collection no doubt realises, this is a capriccio of classical ruins (all in Athens?) with the Philopappos Monument at the centre.

Interestingly, the condition of this monument may help dating the work: it appears from late 18th century to early 19th century pictures – see link – to have been in a better state of preservation at that point. However photographs of it later on show deterioration – note the collapsed central arch – since which repairs have been undertaken. The date of the damage (during the Greek Wars of Independence?) could help provide a date for the source of the representation here.

'The Monument to Philopappos, Athens', c.1805–1807 by Giovanni Battista Lusieri (c.1755–1821) at National Galleries of Scotland, Scottish National Gallery:
http://bit.ly/2aNmVN6

http://bit.ly/2aNl2QU – there are many other late 19th-century photographs of the site on the web.
Completed, Outcome

This discussion is now closed. This picture has been identified as a capriccio of classical ruins with the Philopappos Monument, Athens at its centre. It has also been concluded that it has no connection to Hubert Robert, other than a generic resemblance in subject matter, and that it should therefore be given to 'unknown artist'. It can be dated to 1843 or later based on its reliance on engravings by Andrea Gasperini published in that year.

Thank you to everyone who participated in this discussion. To those viewing it for the first time, please see below for all the comments that led to this conclusion.