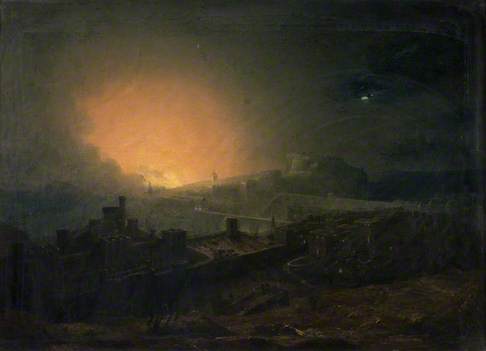 Topic: Artist
I wonder whether this work is by Ewbank, another north-east painter who is known to have emulated something of John Martin's technique, but who critically is documented as actually having been in Edinburgh in November 1824 when a major part of the south side of the High Street from Parliament Square eastwards to the Tron Kirk was destroyed, with loss of life, in the major conflagration depicted.

Further details of Ewbank's recording of the fire, and of the influence of Martin's work on his own paintings can be found in my curation on Ewbank. https://bit.ly/3xi1v29

[Group Leader: Michelle Foot]
3 comments

William Turner de Lond [active 1820-37] painted several pictures of this fire of the night of 16 November, one of which was also presented in a lithograph now in the British Museum. There is a 4 page article in The Connoisseur in 1906 on the set of 4 lithographs
Another lithograph is in the Edinburgh Museum. Others in the collection of the National Gallery of Scotland
One of his paintings is a Nocturne - Shipwreck and loss of the Comet Steam Vessel near Greenock
However Ewbank seems to be a more likely candidate for this painting

I don't think that this is John Martin. He would have hammed it up, which this artist has not done.
The well-constructed landscape, showing clearly the form of the land without drama is much more like the paintings of Ewbank than John Martin.
The single reason for attributing this to John Martin is probably the drama of the actual subject matter. There is a fire lighting up the sky and that is equated with Martin. However, in this case it is too simple an answer.
Without being familiar with other artists who may have also witnessed the scene, I must say it looks like the work of John Wilson Ewbank to me.