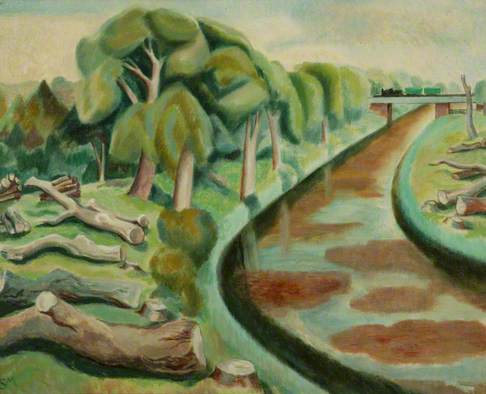 Topic: Subject or sitter
This must be between Rye and Appledore. The railway bridge of 1903 is at Warehorne.

see P. A. C. Vine, 'The Royal Military Canal'. An historical account of the waterway and military road from Shorncliffe in Kent to Cliff End in Sussex, Stroud, 2010, p.151

Warehorne is on the Hamstreet to Tenterden Road. Patrick Leyland, 'The Royal Military Canal, A Walk along the Historic Waterway, Portslade', 2012, p. 11, says that the railway bridge is green.

Looking at the map it is beyond Appledore – further north and close to where the canal turns east.
Completed, Outcome

The collection has provided the following new descriptions as a result of this discussion:

http://www.bbc.co.uk/arts/yourpaintings/paintings/military-canal-205578
"The canal, seen near Warehorne, Kent, runs alongside a wood, with a bridge in the distance. The shapes of trees are simplified, with different shades of green denoting depth. on either side of the canal, felled trees, chopped wood and stumps cover the ground, and on the distant bridge, a cargo train trundles past."

http://www.bbc.co.uk/arts/yourpaintings/paintings/martello-tower-205577
"A slightly warped perspective from a bridge leading into a Martello tower. The circular tower courtyard seems to surround the viewer, its edges leading off either side of the canvas. Pale whites, ochres and dark browns dominate the canvas. The location has been identified as Slaughden, just south of Aldeburgh in Suffolk. That tower is now referred to as Tower CC."

These changes will appear on the Your Paintings website by the end of November 2014. Thank you to all for participating in this discussion. To those viewing this discussion for the first time, please see below for all comments that led to this conclusion.