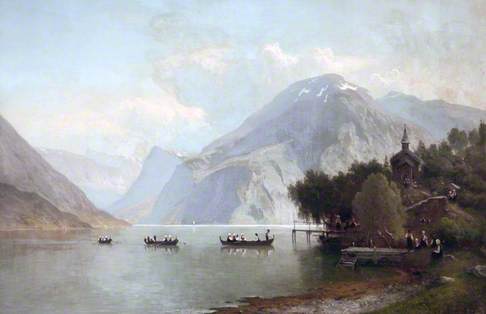 Topic: Subject or sitter
This painting depicts a Fjord in Norway – on the right is a church very similar in style to the Urnes Stave Church on the Lustrafjorden (http://en.wikipedia.org/wiki/Urnes_Stave_Church). The painting may be by Georg Anton Rasmussen (1842–1914) or an artist working in a similar style.

PCF comment: We are looking to add a more appropriate Group for this discussion.
Completed, Outcome

Group Leaders have recommended this painting is attributed to Johannes Bertholomus Duntze (1823–1895).

National Museums Liverpool unfortunately does not have the curatorial capacity to look into this at present, but the collection have put the information on file for future research.

The artwork's Art UK page will appear in line with the collection records with regards to this recommendation. We will update the record as soon as the collection are able to give a response. Any visitors to this artwork's page on Art UK will see a link to this discussion.

Thank you to all for participating in this discussion. To those viewing this discussion for the first time, please see below for all comments that led to this conclusion.