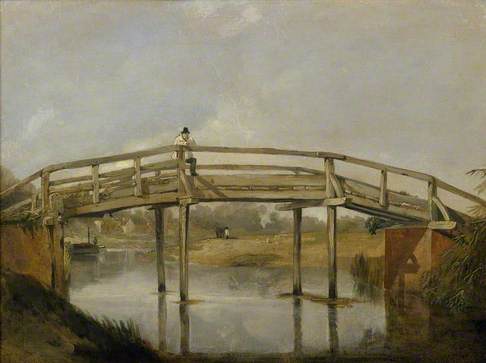 Completed, Outcome

This discussion is now closed. In the absence of any conclusive identification of either artist or location, this record will stay as it is.

It is thought more than likely that the old wooden bridge depicted in the painting no longer exists or if it does exist it would be in a more modern form, thus making exact comparison rather difficult. Regarding the location of the bridge depicted there was insufficient evidence to identify it as the Fen Bridge on the Stour (the Stour is wider at this point than the river in the painting) or the old bridge at Burwell Lode near Newmarket (the landscape at Burwell doesn't fit well with the artist's image). There is insufficient evidence at present to attribute the painting to John Dunthorne III.

Thank you to everyone for participating in this discussion. To those viewing this discussion for the first time, please see below for all the comments that led to this conclusion.