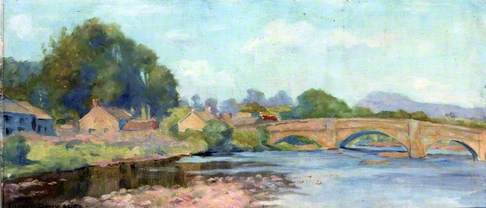 Topic: Other
This photograph on Flickr https://bit.ly/3EQ8m4W seems to show the same scene. It is part of a set of photos that appear to be associated with Francis Reily. I am in contact with the person who posted them on Flickr, who says that the plates are in their attic and thinks that there's a family connection with the Reilys. The owner of the photos has captioned them 'Herefordshire'. However, I think that's because one of them is identified as showing the Wye in Herefordshire in the caption to a greetings card https://bit.ly/3k5pmws). I think that the album as whole https://bit.ly/3nX8QzK may range quite widely geographically.
Completed, Outcome

This discussion is now closed. The location was successfully identified and the title of the work has been amended to 'Bridge over the River Greta, Burton in Lonsdale, North Yorkshire'. The artist's dates have been updated to additionally record Reily's death in 1928. Pieter van der Merwe's new artist biography will now be reviewed with the Editorial team and then incorporated on to the Art UK site.

Thank you to everyone who contributed to the discussion. To anyone viewing this discussion for the first time, please see below for all the comments that led to this conclusion.